Meet the Climbers
I hope this year's Prostate Cancer Climb, Hike & Gathering to the Yosemite National Park High Country will be an inspirational message to men and their families, a message that there is plenty of life after diagnosis. I also hope to help get the word out that this epidemic needs to be conquered, now!
I'm one of the new generation of men afflicted with prostate cancer. I'm the one in five now diagnosed under the age of sixty. I was told I had the disease on my 50th birthday. I'll never forget the shock of that day. I had had bouts of prostatitis, and higher than normal PSA readings, but didn't pay much attention. I think my attitudes about prostate health at the time were pretty typical of men all over. I really didn't even know the function of the prostate gland! Boy, have I gotten an education over the past 9 years.
I have been fortunate. With a strict diet, life-style changes, meditation practice for stress reduction, exercise, and the use of nutritional supplements, I have recently been told after a second biopsy that I no longer have any malignancy. After 9 years of battling this disease I feel cautiously triumphant, but somehow not in the clear!
I was a participant on the first two Prostate Cancer Climb to Mt Aconcagua in the Argentine Andes, and Mt Kilimanjaro in Tanzania. We were able to raise almost $250,000 for awareness programs and education. I am proud to have the opportunity to participate once again. My personal goal is to raise public awareness about prevention, early detection and how to take proactive responsibility for one's own health. We need your help if we are to be successful. All donations are tax deductible.
Ken Malik is the co-founder and executive director of the Prostate Awareness Foundation and also a businessman in San Francisco.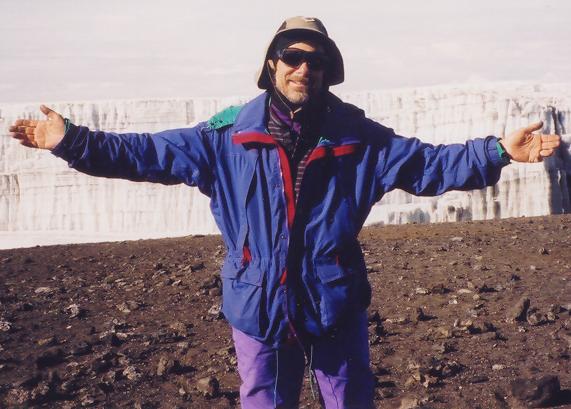 Jan Zlotnick
SEBASTOPOL, CA
I learned about my prostate cancer at the ripe old age of 41. It was during a routine physical for employment. My father had been diagnosed with another type of cancer, non-Hodgkin's lymphoma, a year earlier. As a registered nurse and health science instructor, I fought to keep him alive and well, managing his care from my world on the other side of the country. It was stressful, very stressful.
It was when his demise seemed imminent that I was diagnosed with PC. Not one to believe in fate, I nevertheless had the sense that I was supposed to die with him. Instead, I had 'curative' surgery shortly before he died at home with his family around him. I will always remember the pain of saying good-by to him at the San Francisco airport, knowing I would never see him again. He told me I would be all right, that I would live a long, happy life.
My surgery was not curative, however, and we now understand the remarkable frequency with which urologists present sanguine but unrealistic pictures to their patients. Had I known what organizations like PAF know now about the recurrence rate, I would likely not have had surgery or the radiation that followed it.
In the 11 years I have had prostate cancer I actually never suffered from the disease itself, only from the treatments. The surgery and radiation have left me with some incontinence, diminished erectile function, and permanent rectal bleeding. I continue to go through intermittent cycles of complete androgen deprivation therapy, with its multiple side effects.
Interestingly, the years since my diagnosis have been the happiest of my life. During this time I have married the love of my life, had a wonderful son, and prospered professionally and financially. Without any strong spiritual belief, I have learned to stay focused in the present and to appreciate the capabilities I have. This has helped me with virtually all aspects of my life – sexual, intellectual, and physical.
I climbed Mt Kilimanjaro during the full weakening effects of ADT. Then I ran a MASH unit immediately after the climb to care for the many in our climbing party who had become ill. I am proud of this, but hardly consider myself a hero. I'm just a teacher who wants to continue to challenge himself, help others, and enjoy life.
Jan Zlotnick is an RN, and teaches men's health classes at City College of San Fransisco.
This will be my second Prostate Cancer Climb. I was on the expedition last year that reached the summit of Mt Kilimanjaro. It was my first real high altitude experience and I was proud of our accomplishments.
Prostate cancer has become a real "family affair" for me. When I returned from Africa last fall it was to the news that my brother had been diagnosed with aggressively growing prostate cancer. Fortunately he was diagnosed in time, had a round of radiation therapy and seems to be doing well.
Just like others on this expedition, I am doing it because the disease has affected close family members and friends. Besides my brother, my best friend was also diagnosed with prostate cancer a few years back. That best friend just happens to be my father. He was diagnosed in 1988 during a routine physical and ended up receiving radiation for one year without success.
During this very dangerous crisis in his life he did not tell anyone in the family that it was prostate cancer, but only routine tests and procedures. During that time, I was so engulfed with my life that I did not stop to ask the important questions in his. It wasn't until after the surgery that I found out it was prostrate cancer. Thankfully the surgery was a success.
It is now fifteen years later and he is going strong and approaching 80 years of age. Like I said, my father is my best friend and I cannot imagine these last 15 years without him.
The climb itself will be a wonderful test and experience, but it's the cause and my efforts for raising awareness that will drive my strength up the mountain.
It seems that no family these days goes untouched by cancer. I was shocked to learn that my closest uncle was recently diagnosed with prostate cancer. Even more so, when a high school friend I had not seen in years told me he was diagnosed 9 years ago at 50.
As a recent retiree, I don't want to become another statistic. With my newfound awareness about the disease, I am taking positive, proactive action to maximize my health. Awareness and personal action are key elements to prevention, early detection, and the early treatment that can save lives.
I have been a contributor and advocate for cancer research for most of my life. I was one of four PAF participants to summit Mt Kilimanjaro in last year's Prostate Cancer Climb, which raised almost $30,000. This year's Prostate Cancer Climb, Hike And Gathering in the Yosemite High Country will give me a chance to stand up and be counted once again.
Ralph Lake is a retired Engineering Director and resides in Austin, TX.
I am really looking forward to the challenges offered by this year's Prostate Cancer Climb, Hike and Gathering. I also have to say that I have some apprehension, as I underwent a radical removal of my prostate gland surgically just this last May.
For me this will be an extra special expedition because my son, Shawn, will be joining me on the mountain. He will probably jog to the top. Among other endeavors, he's a marathon runner and an inspiration to me. This will really be a "Mohovich Family" affair. Both my wonderful wife, who has supported me throughout this prostate cancer odyssey of mine, and my daughter Lynette, an airline pilot, will be there with us in spirit.
What I have learned, since I was diagnosed with prostate cancer a few years back, is that you have to be your own doctor. There is so much information out there to absorb, both conventional and alternative, and it continues to evolve with time. You need to go to monthly prostate cancer support groups, read as much as you can on the subject, and do your due diligence.
I met Ken Malik, from the Prostate Awareness Foundation, a few years back on a visit to San Francisco. I used a similar program to his "Aggressive Watchful Waiting" protocol for a few years with good results.
When I was first diagnosed over seven years ago my PSA was 4.2 and my Gleason score was 3+2. This past February on a visit to Fred Lee, MD a prominent prostate cancer specialist I learned my PSA had risen to 9.6 and my Gleason was now 4+3. I decided it was time to have my prostate removed.
My recovery has gone well. I hope to be huffin' and puffin' pretty soon and getting myself prepared for our climb in September. I hope that my Boy Scout camping days haven't left me. I'm proud to be involved.
Rick Mohovich is a General Contractor, carpenter, and builder from New Jersey.
Since 1998, I have been actively raising funds and awareness for various different health disorders. Participating in challenging athletic endeavors seems to me to be an excellent way to do good work while staying healthy myself. In 1998 and 1999 I rode over 2500 miles around the United States on a bicycle to raise money for spinal cord injury research.
In 2001, I participated in the Prostate Cancer Climb of Mt Aconcagua in the Argentine Andes. This was a particularly gratifying expedition as it was in honor of Hap Weyman who lost his life to prostate cancer. Hap's son, Terry Weyman, a dear friend of mine, had organized this expedition as a tribute to his father. Aconcagua proved to be a difficult mountain. Only a couple of climbers reached the summit, but we did raise critically needed funding for prostate cancer awareness programs.
In 2003, I was proud to be the expedition leader for the Mt Kilimanjaro Prostate Cancer Climb in Tanzania. The majority of our 25 person team reached the summit, although we did have some problems with altitude sickness. I have to say that the feeling of gratification when you reach the top of a mountain peak is hard to beat. Especially while raising funds and awareness for a good cause.
The Yosemite Climb will be my third Prostate Cancer Climb and I hope there are many more in years to come. My father in law battled (since passed away from a stroke but battle pc for years using lupron) prostate cancer and my father died from colon cancer. I feel strongly about this cause and hope we can continue to garner support around the world, and that our efforts will result in both helping and saving men from this terrible malady.
Tom Hyde is a retired chiropractor. He is a skilled sports medicine doctor and the former team chiropractor for the University of Miami Hurricane's, the Miami Dolphins and Florida Marlins. He is also a Viet Nam vet.
For more information about the Yosemite trip, call 415-675-5661 or
e-mail kamalik@sbcglobal.net