Cancer Climb for Prostate Awareness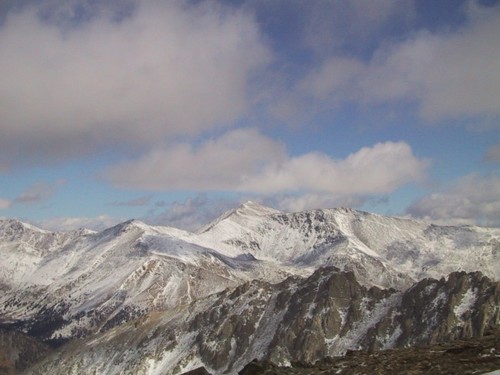 Mt Elbert & Mt Massive
Cancer Climb For Prostate Awareness
August 2006
UPDATE
This year's climb was another great success. All of our climbing team was able to summit Mt Elbert, at 14, 433 the highest mountain in the Colorado Rockies. The expedition also raised over $20,000 in contributions, which will help sustain the foundation and its work for another year. A big cheer for all the climbers and a rousing thank you to all of you who supported our efforts with your generous contributions.
This year's climbing team was made up of nine members from all over the United States. Ralph Lake and Brad Neal from Texas, David and Fay Brown from New Mexico, Ron MacConnell from New York, Bill and Sally Gauditz from Colorado, Sonia Sabir from Toronto and Ken Malik from San Francisco.
The five climbers who live in the "Flatlands" spent the first four days acclimatizing to the high altitude in the Flat Top range of Colorado at 10,000′. The hiking was great with not a soul in site and it was a great way to build team spirit while eating prostate healthy meals in the wild.
We then met the rest of the climbers in Leadville, Colorado the highest city in the continental United States. From there we tackled Mt Elbert and then two days later Mt Massive.
We started climbing Mt Elbert around 7am on Tuesday the 15th of August for a long trek of eleven miles round trip with a vertical gain of 4850′. This was a strenuous climb but on a pretty defined trail. We were all particularly proud of our "senior climbers" David and Faye Brown who reached the summit with the other seven expedition members. David and Faye are both veteran climbers in the Rockies, having climbed all of the fifty plus Fourteener's when they were younger. They are both in their late seventies. They were a great inspiration to all of us and a testament to the fact that you're never too old to set a goal and over come obstacles if you have the proper focus.
We celebrated on the summit, honoring others with prostate cancer and logging in our exploits. We left a Cancer Climb pin as a memento at the top and then we made our way back down the mountain and the end of a long eleven-hour day of climbing. That evening we enjoyed a great meal together while reviewing the day's exploits, and comparing notes of our adventure.
After a day off to recover and replenish supplies we headed for the trail head of Mt Massive, the second highest peak in Colorado. It was a particularly challenging thirteen-hour day of climbing. Our ascent of Mt Massive in many ways was more difficult than the challenge of Mt Elbert. Our ascent was a total of 4,000′ vertical feet. The trail was shorter than Mt Elbert but much steeper. After a seven-hour climb we reached the top. After a moving ceremony on the summit where we honored prostate cancer veterans all over, we made a long and challenging descent back to the trailhead and a well-deserved dinner and comfortable bed.
A footnote to our expedition took place in a Leadville, Colorado bookstore the very next day. While standing on line, we got to talk to a guy who had climbed Mt Elbert the day after us. We told him about our ascent and our mission to educate and inspire men and their families all over with a positive message of hope. He then told us that he had found the Cancer Climb pin we had left at the summit of Mt Elbert. He said he took it with him and his plan to send it to a close friend of his in Washington who had recently been diagnosed with prostate cancer. His goal was to inspire his friend with hope. We all felt that this was a fitting end to this year's Cancer Climb for Prostate Awareness. Mission accomplished!