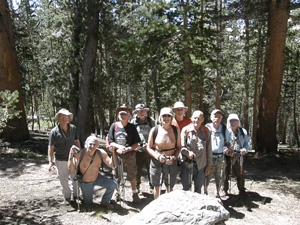 John's Hopkins Prostate Disorders 2014
Focusing on Active Surveillance
Power Point Presentation by John Bohan

---
An Important Book:
The Great Prostate Hoax
Richard Albin, PhD
Book Review by Ken Malik

---
Camping, Hiking and Biking:


Prostate Awareness Foundation Wednesday
Fall Hiking Schedule
2014
See link below for details:
Take a look at the attached details
Butano-Purisma-Hike-Camp
San Francisco
Discussion & Support Group Meeting
Thursday, Dec. 4th, 2014
one Ferry Building
San Francisco Ferry Building
Market at Embarcadero
2nd Flr / Conifer Securities / Room # 255
San Francisco, CA
7-9pm
(There will be a brief 5 minute meditation at the beginning to relax and focus.)
"Radical Remission by Kelly Turner reviewed"
Presented by John Bohan, PAF Mentor & prostate cancer veteran.
This provocative book is the PhD dissertation of Kelly Turner re radical cancer remissions she has studied. The book is a can't miss for anyone who has cancer, doesn't want to get cancer or wants to create a healthy life style for themselves.After over 1000 interviews she found 9 key factors which all these people had in common leading to their remissions from cancer. We will go over the nine factors via a power point presentation. Participation in terms of discussion is encouraged.

Santa Rosa
Discussion & Support Group Meeting
Tuesday, Dec. 9th, 2014
Monthly meeting THE 2ND TUESDAY OF EACH MONTH
657 Acacia Lane Apts.
Community Room / Bldg B
Santa Rosa, CA 95409
No parking in lot / On street parking only
7-9pm

Open Forum